Trekking Dolomites – From Sterzing to Veneto 6 stages – 370 km – 4000 m elevation gain – Level 1-2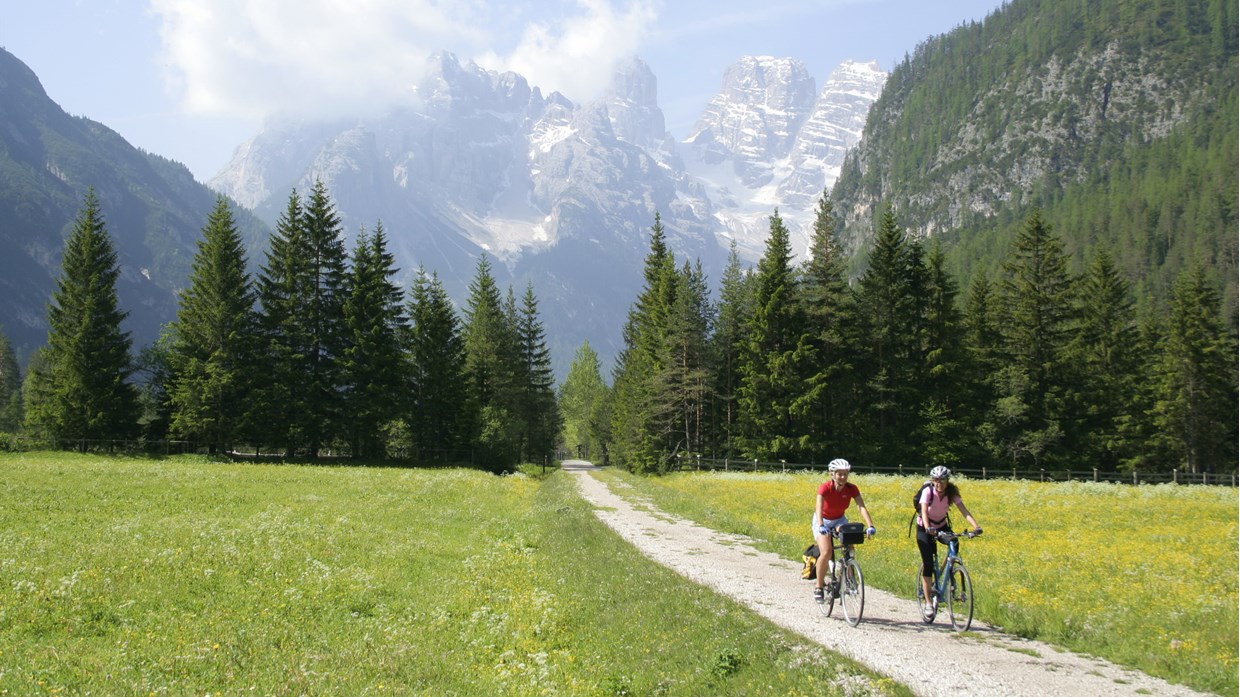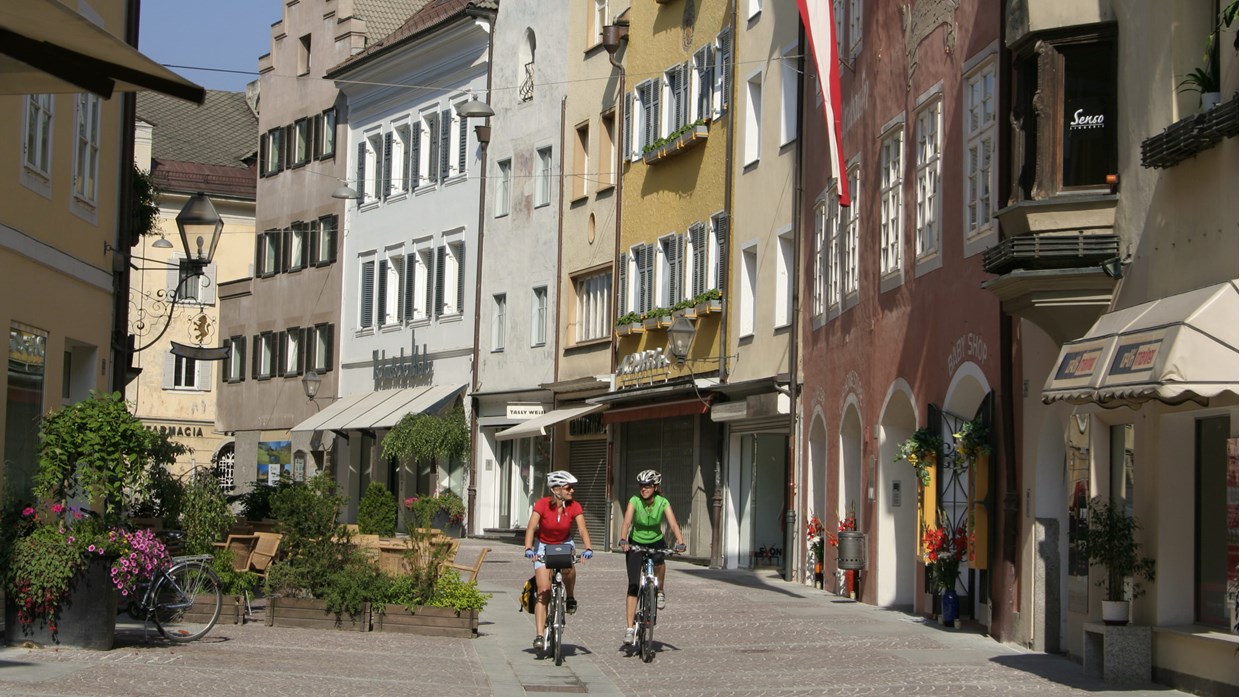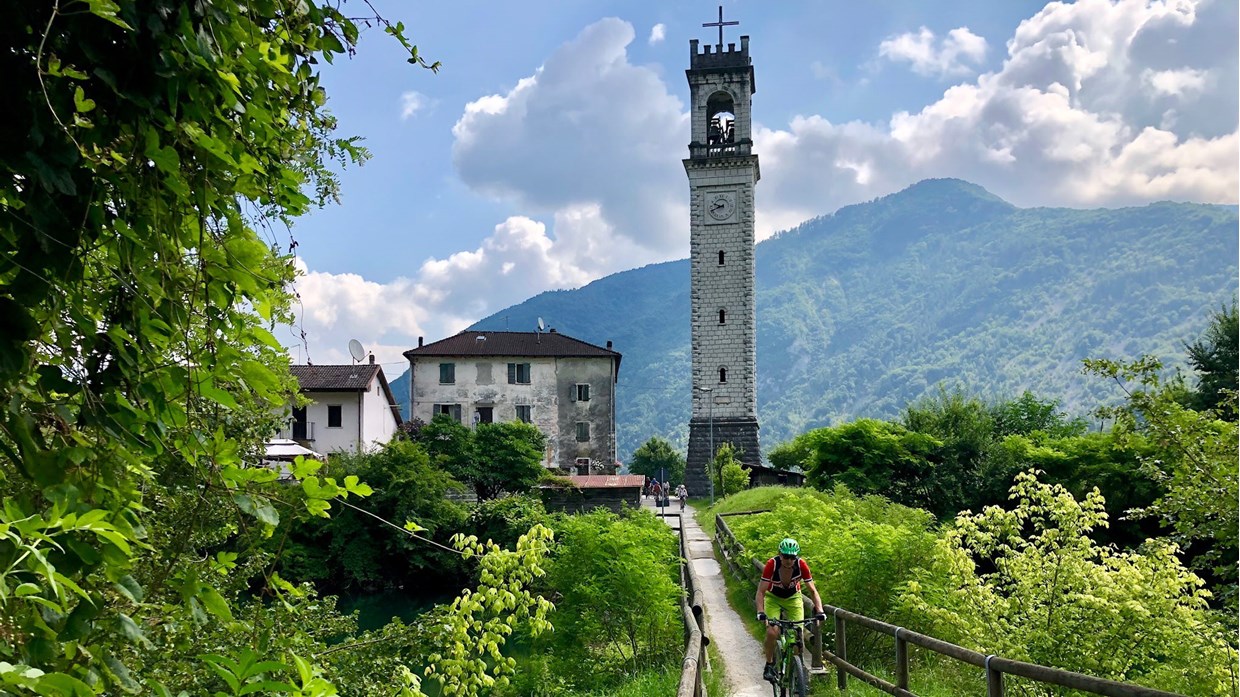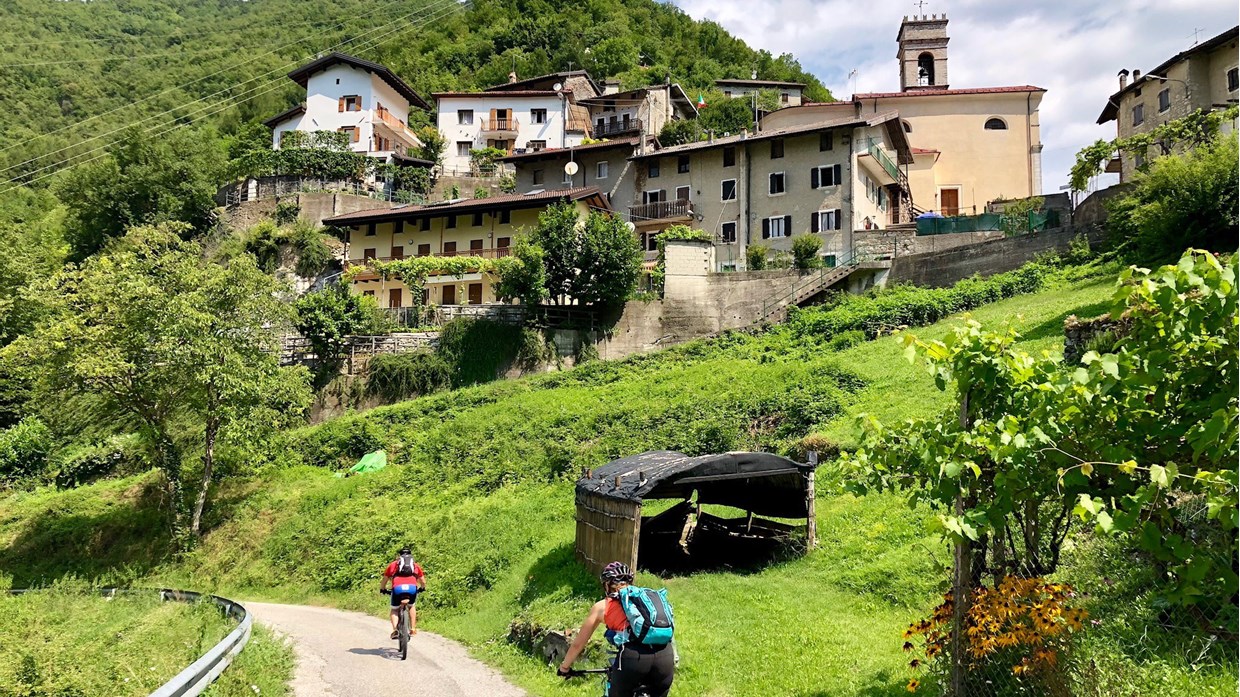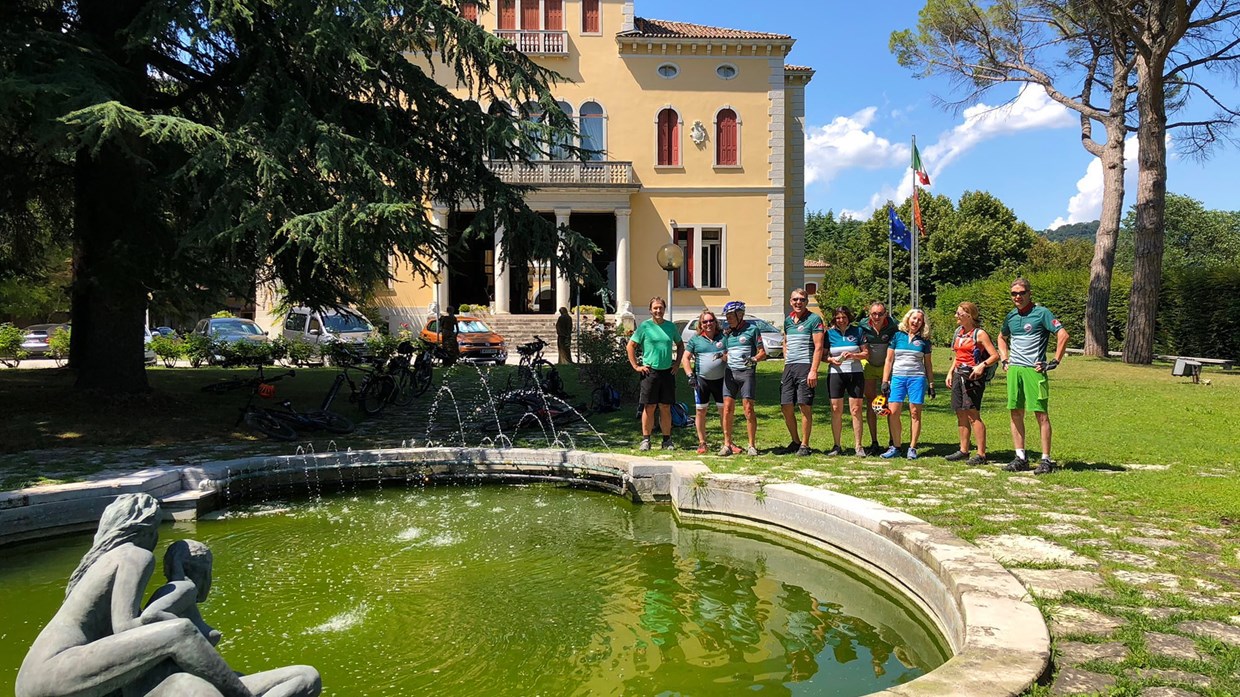 The sunny side On our bikes, we'll always be on the sunny side of the Alps into the veneto
Smooth uphill We'll follow an old railway without moderate hill climbs through the Dolomites
Best hotels The hotels and the cuisine is hard to beat
Itinerary
First day – Arriving to Sterzing/Italy
You'll receive all travel documents about 14 days before departure. They contain the exact hotel address and further information. Please arrive by about 6:00 p.m. You'll meet your group and the guide. After discussing the tour, the group will go to dinner together.
Second day – From Sterzing to Stefansdorf – 60 km, 800 m elevation gain
We'll start on the sunny side of the Alps, riding through the Eisack Valley, passing mighty castles. We'll cross into the Pustertal via a hidden access path. Overnight stop in Bruneck at a 4-star wellness hotel.
Third day – From Stefansdorf to Toblach – 45 km, 920 m elevation gain
Lake Prags is an emerald framed between the white peaks of the Dolomites. Today we're climbing up really high. Our destination is Toblach/Dobbiaco. The group is divided into two hotels with different star categories! Distribution after booking receipt. Dinner together in one of the hotels.
Fourth day – From Toblach to Pieve di Cadore – 61 km, 450 m elevation gain
The highlights don't stop coming. The old Dolomites railway line runs directly into the heart of the Dolomite mountain range. We pass by crystal clear lakes, the famous rock towers of the Tre Cime di Lavaredo and the fateful mountain Monte Cristallo. After the lunch break, we begin an almost endless easy descent towards Pieve di Cadore. We'll enjoy Italian cuisine.
Fifth day – From Pieve di Cadore to Feltre – 90 km, 900 m elevation gain
The descent doesn't end today, either. A wild, unknown side of Italy envelops us. However, once we reach Belluno, we'll revel in luxury. In the 16th Century, Venetians built their villas here. In a bit of time travel, this ancient splendor lives on as we ride by on our bikes. We'll stay overnight in Feltre, a medieval jewel. The city alone is worth the trip.
Sixth day – From Feltre to Bassano del Grappa – 57 km, 430 m elevation gain
We still haven't used up all of our altitude. In a fast-paced ride, we'll descend into the valley of the raging Brenta river. We'll follow the river into the Venetian plain, into the pulsating Italian life of Bassano del Grappa, an old trading town. Overnight stay in a 4-star hotel.
Seventh day – From Bassano del Grappa to Valdobiadene – 52 km, 470 m elevation gain
Wine, villas and rolling hills mark our route on the last day. At our destination, corks may pop. There's no better place for that than Valdobbiadene, home of Italian Prosecco. Overnight, we'll stay in a Venetian villa. We'll have a multi-course farewell dinner.
Eighth day – Departure
After breakfast, the bikes are loaded onto the bus. Return trip by bus back to Sterzing. Upon arrival in Sterzing, everyone travels home individually.
My tip for Trekking Dolomites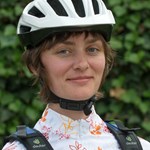 ---
"The old town of Sterzing is worth a journey in and of itself. But it's only the prelude to a tour whose cultural and scenic highlights are hard to beat. Even experienced trekking cyclists agree: the Trekking Dolomites is one of the most beautiful bike tours ever. I will also never forget the day when, for the very first time, we rolled through the mountains on the old railway line without any traffic. The tour is simply great."
Travel information
Level 1-2: Physical fitness
Riding technique
Arrival: Arrival by car or train to Sterzing/Italy.
Type of route: Forest and bike paths, asphalt secondary roads.
Daily distance: 430-920 m elevation gain, 45-90 kilometers
Total distance: 4000 m elevation gain, 370 kilometers
Included in the price: Guided tour with 7 overnight stays and half board (breakfast buffet, multi-course dinner menus) in mostly 4-star hotels in a double room. Luggage transport, return transfer in a comfortable bus.
Minimum number of participants: 8 people
Single Room Supplement: optional € 190

Travel dates 2022
11.06. to 18.06.2022
02.07. to 09.07.2022
27.08. to 03.09.2022
03.09. to 10.09.2022
10.09. to 17.09.2022
E-Bikers also welcome in the partner-mixed
E-bike only
18.06. to 25.06.2022
25.06. to 02.07.2022
03.07. to 10.07.2022
28.08. to 04.09.2022
04.09. to 11.09.2022
Not convinced yet?
We have more up our sleeves!
Your guides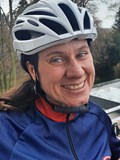 Astrid Lenz Tour Guide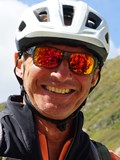 Christian Auffenberg Tour guide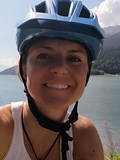 Gwen Jaschke Tour Guide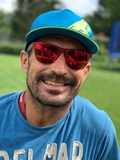 Martin Lancaric Tour Guide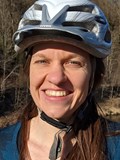 Nicole Weidinger Tour Guide