Transalp Marmolada – From Bruneck to Trento 6 stages – 250 km – 7300 m elevation gain – Level 3 – 4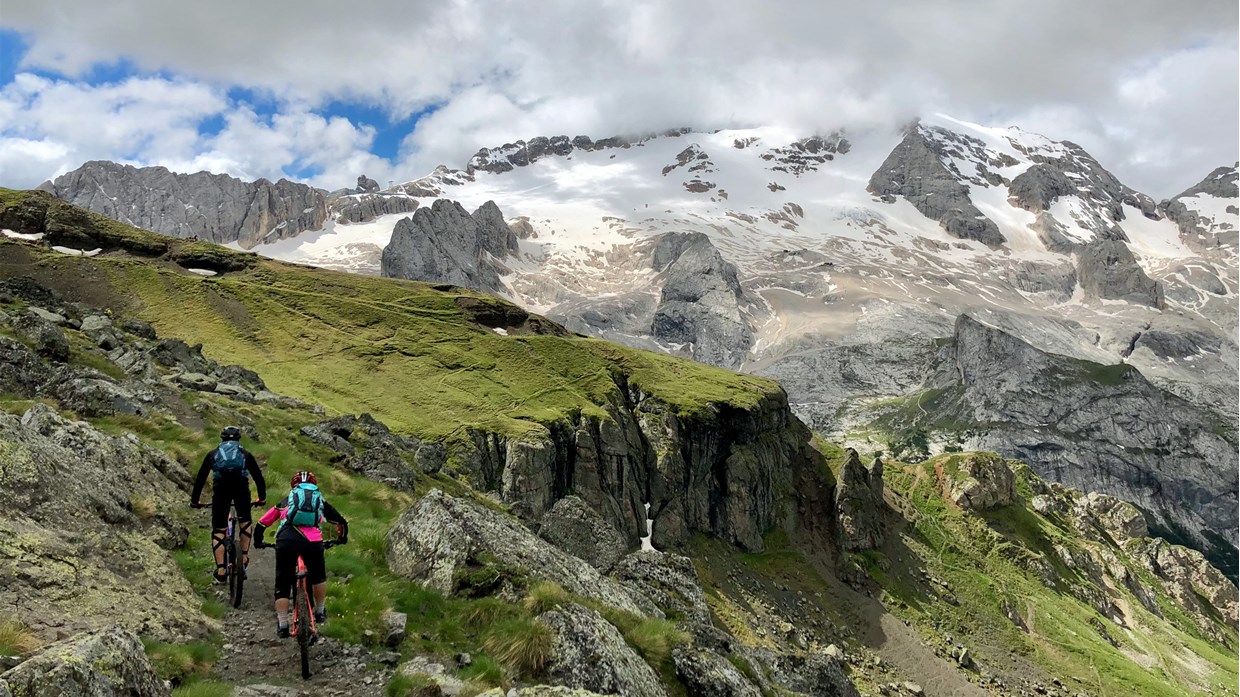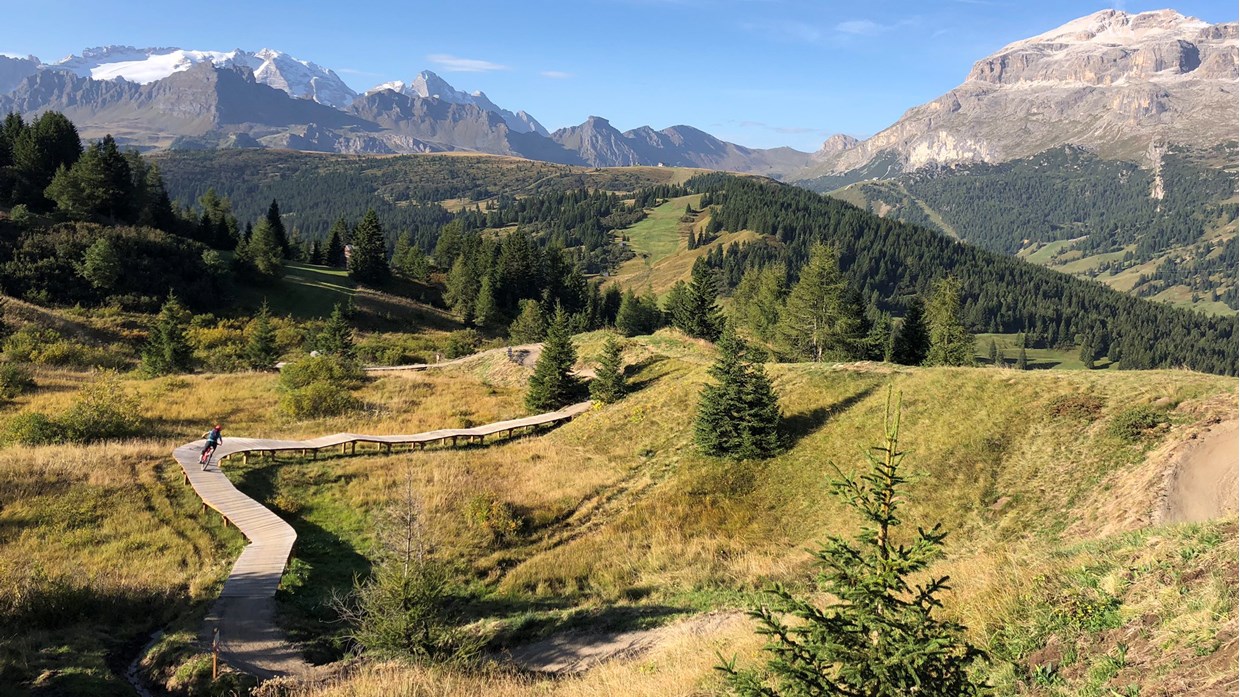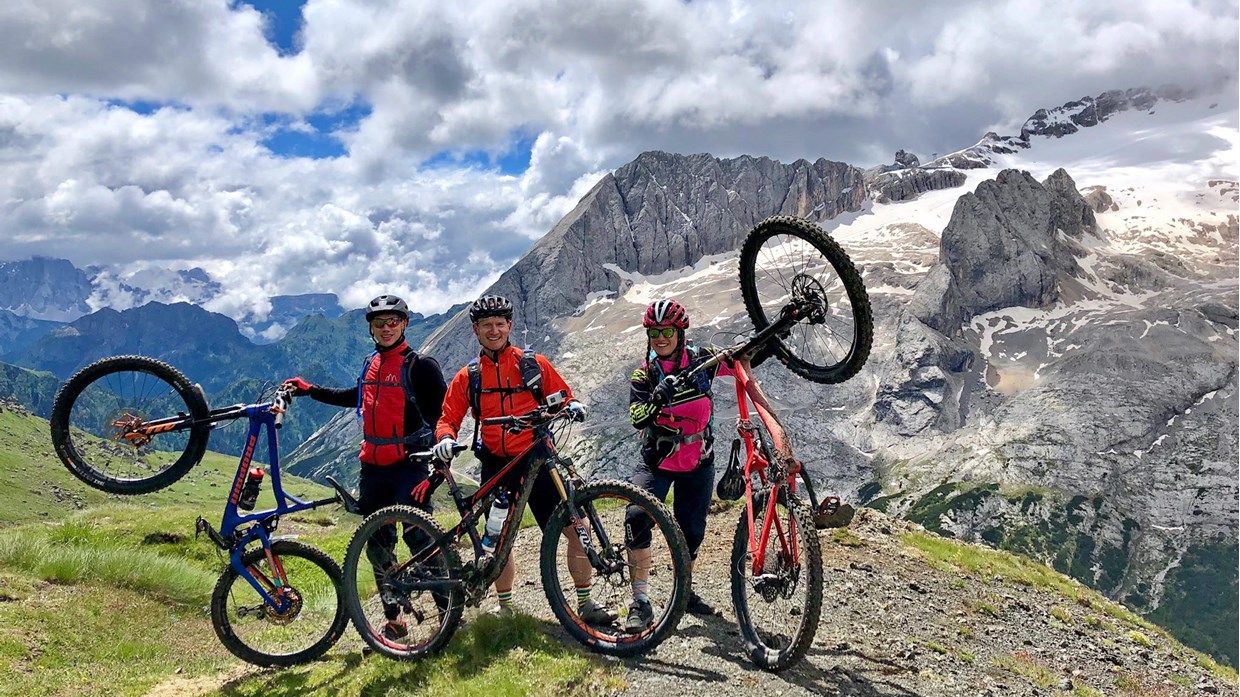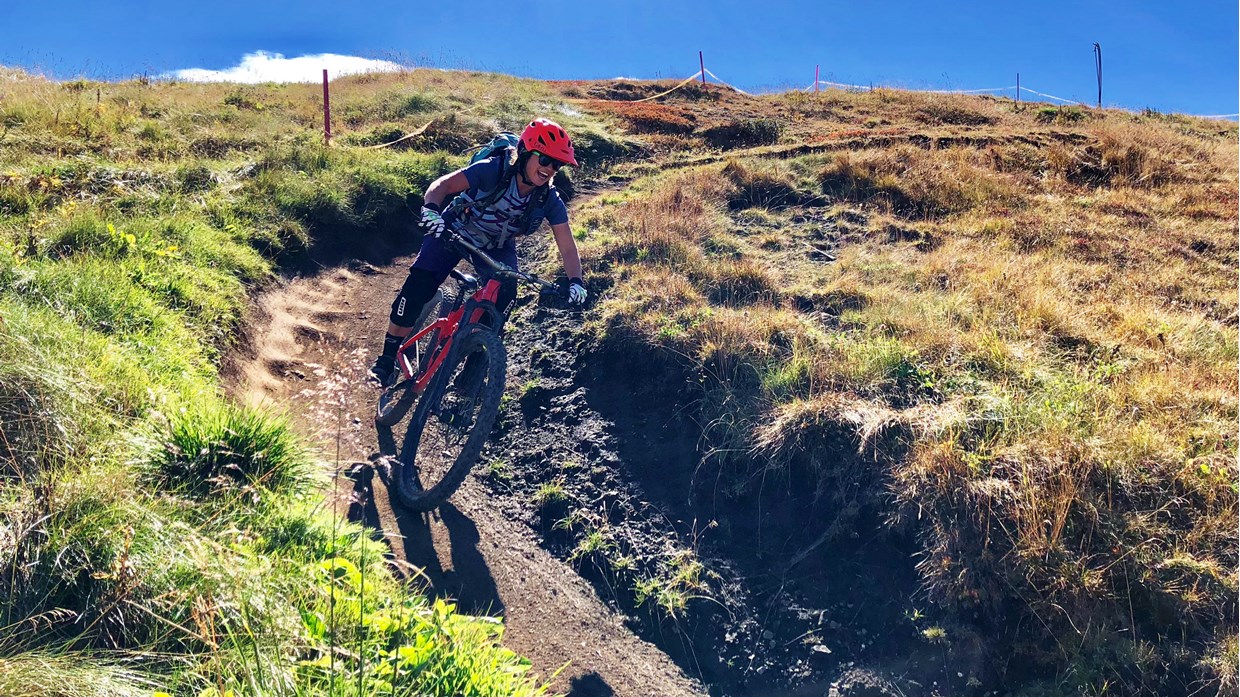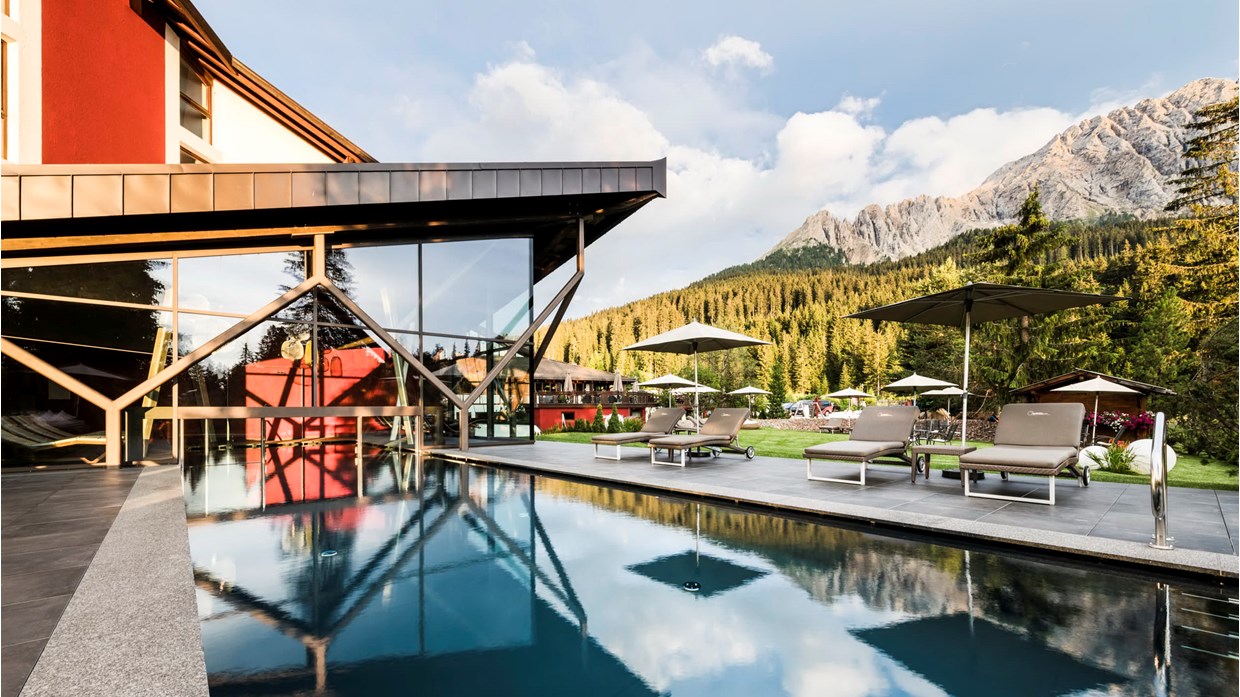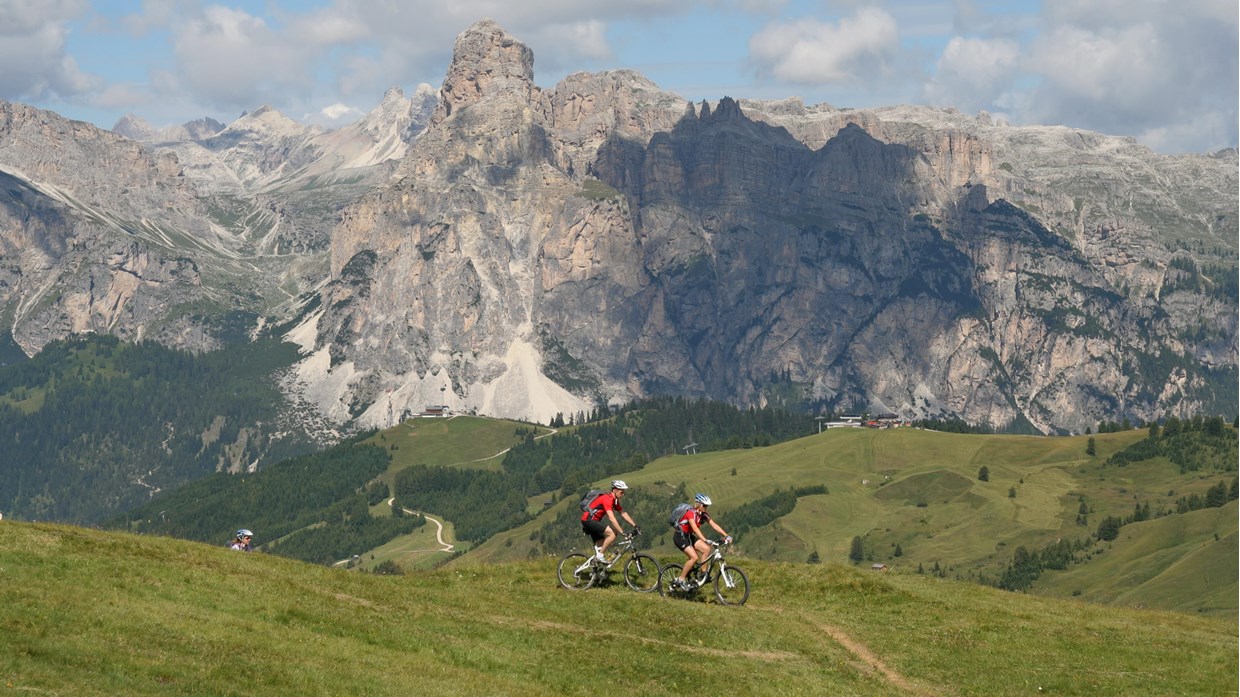 Plan de Corones 360 degrees view at 2.200 meters and flowtrails into the valley
Perfect trails Five days in the middle of the Dolomite mountain giants
Sella Ronda Bindelweg and Passo Pordoi - Beautiful mountain bike trails beneath rocky cliffs
Itinerary
First day – Arriving at Stefansdorf
You'll receive all travel documents about 14 days before departure. They contain the exact hotel address and further information. Please arrive by about 6:00 p.m. You'll meet your group and the guide. After discussing the tour, the group will go to dinner together.
Second day – From Stefansdorf to St. Vigil – 36km, 1500 m elevation gain
The almost 2300 m high summit of the Kronplatz ("crown place") has its name for a reason. Once we've conquered this summit, the main Alpine ridge and the Dolomites are literally at our feet. We will get the ascent done by lunchtime. Then we'll enjoy one of the most beautiful downhill trails in the Alps, descending to the touring paradise Sankt Vigil.
Third day – From St. Vigil to La Villa – 32km, 1450 m elevation gain
Already, we're in the middle of the giant white mountains. Traversing Ritjoch with a view of the famous Fanes massif, we will proceed directly under the towering walls of the Santa Croce. The Church of the Holy Cross is our midday destination. Afterwards, we'll descend on trails, some of which are technical, to the hotel in La Villa. A day of mountain biking can hardly be more impressive.
Fourth day – From La Villa to Fassatal – 41 km, 800 m elevation gain
Just like yesterday, the highlights don't stop coming. We'll get closer and closer to the Marmolada glacier. After a busy morning, the cable car will help us ascend to Porta Vescovo, which is almost 2500 m above sea level. Riding the legendary Bindelweg, we'll reach Canazei/Campitello.
Fifth day – From Fassatal to Lake Karer – 35 km, 1100 m elevation gain
The rose garden and the crags of the Vajolet Towers are our midday destination today. Then we'll take a wonderful high altitude trail along the flanks of the mighty mountain above the Karerpass and the Karersee (lake) to our stage destination in Obereggen.
Sixth day – From Lake Karer to Truden – 45 km, 1300 m elevation gain
With the Dolomites behind us, today we'll enjoy beautiful South Tyrolean views and wonderful trails. Once again, we'll climb up to 2000 meters as we head for the Weißhorn mountain. Then we'll ride on hidden paths to Truden. Overnight stay in a bike hotel with sauna.
Seventh day – From Truden to Trento – 60 km, 1150 m elevation gain
Both gaining altitude and riding pleasure characterize today. Italian villages are drawing closer and closer. After a seemingly endless downhill ride, we'll reach the episcopal city of Trento – a worthy destination for our crossing of the Dolomites. Stylish accommodation in a hotel in the old town.
Eighth day – Departure
After breakfast, the bikes are loaded onto the bus. Return trip by bus back to Bruneck. Upon arrival, everyone travels home individually.
My tip for Transalp Marmolada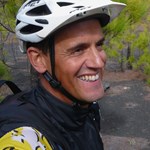 ---
"It's not hard to see why the Dolomites were declared a World Heritage Site. During the Transalp Marmolada, the white giants will always be very close - more of a mountain experience is hardly possible. We'll always be riding on the best mountain bike terrain. Partially on technical trails, but we'll always be able to reach our altitude goals. For me, it's the highlight of the ALPS tour program."
Travel information
Level 3 – 4: Physical fitness
Riding technique
Arrival: Arrival by car or by train to Bruneck/Italy.
Type of route: Gravel paths, single tracks, secondary roads, a few stretches of pushing.
Daily distance: 950-1500 m elevation gain, 32-60 kilometers
Total distance: 7300 m elevation gain, 250 kilometers
Included in the price: Guided tour with 7 overnight stays and half board (breakfast buffet, multi-course dinner menus, farewell dinner) in good 3- or 4-star hotels in a double room, often with wellness areas. Cable car, luggage transport, return transfer in a comfortable bus.
Minimum number of participants: 8 people
Price: € 1.495
Single Room Supplement: optional € 190

Not convinced yet?
We have more up our sleeves!
Your guides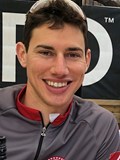 Michele Secli Tour guide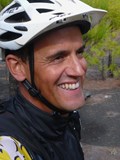 Olaf Reinartz Tour guide