Transalp Cortina – From Mühlbach to Feltre 6 stages – 310 km – 7900 m elevation gain – Level 3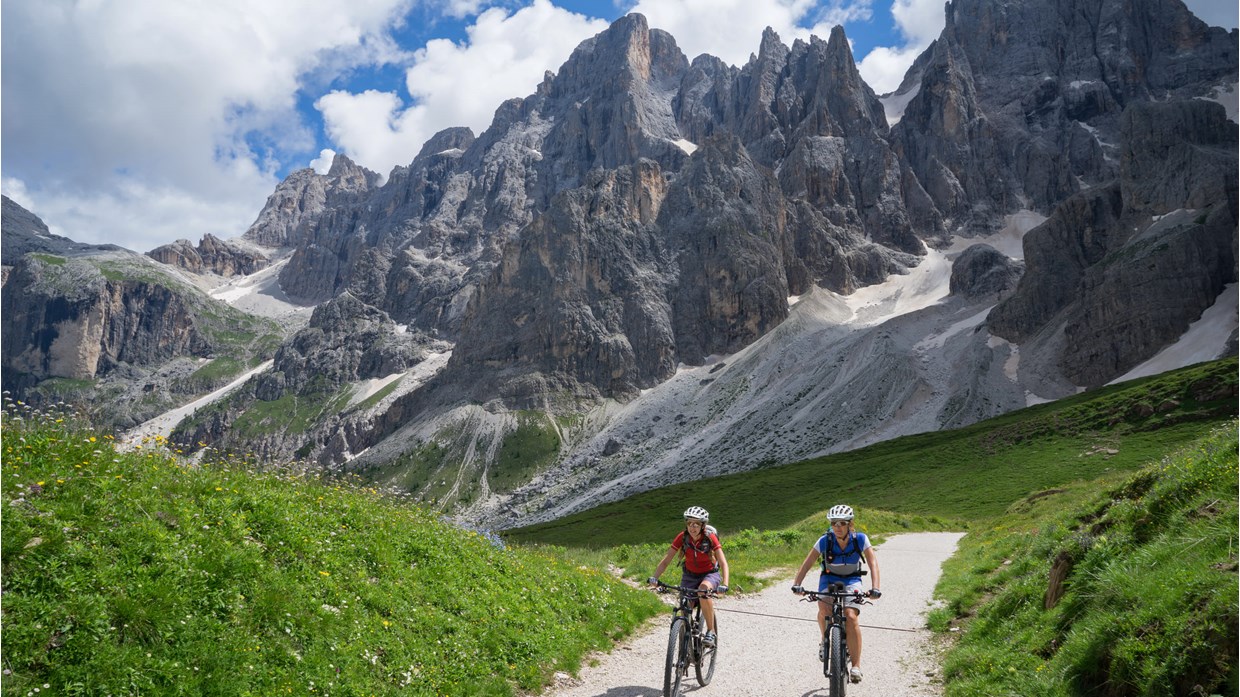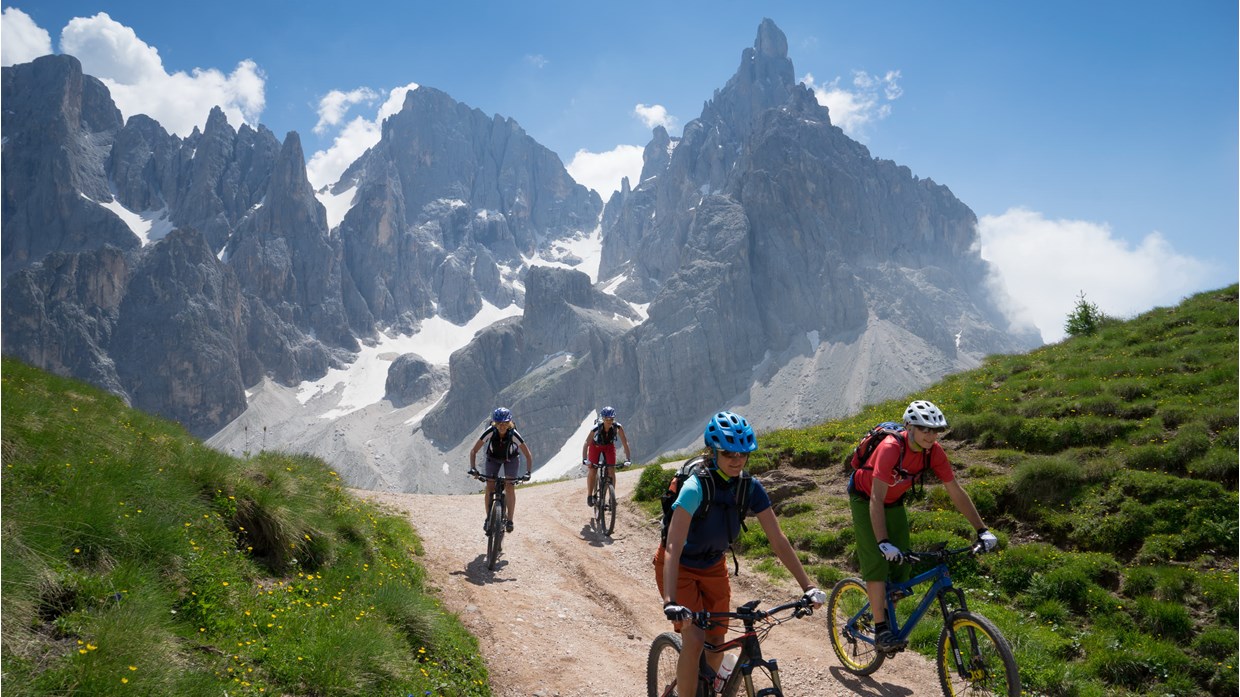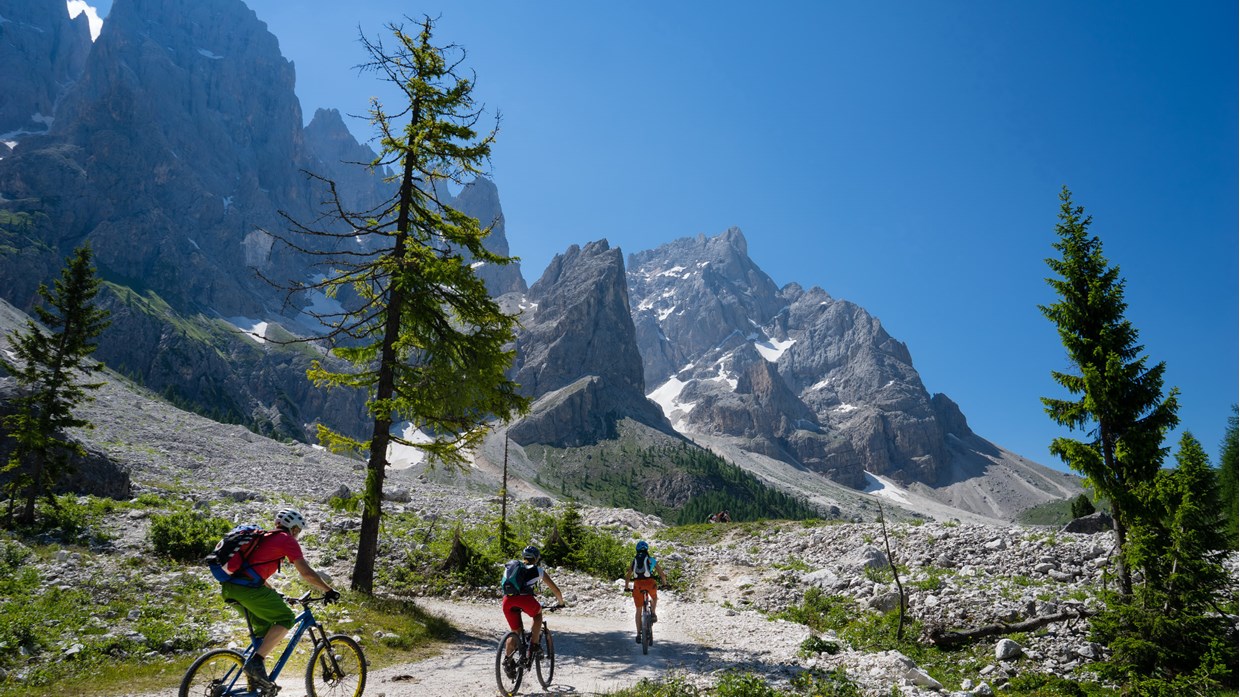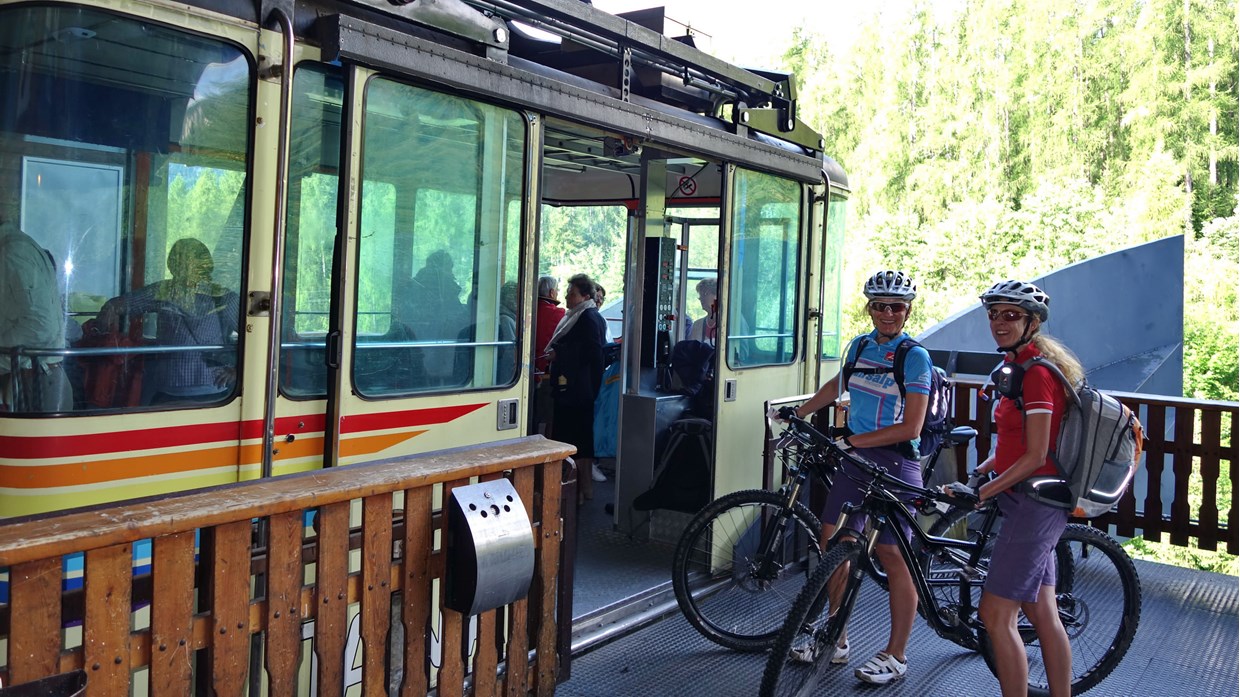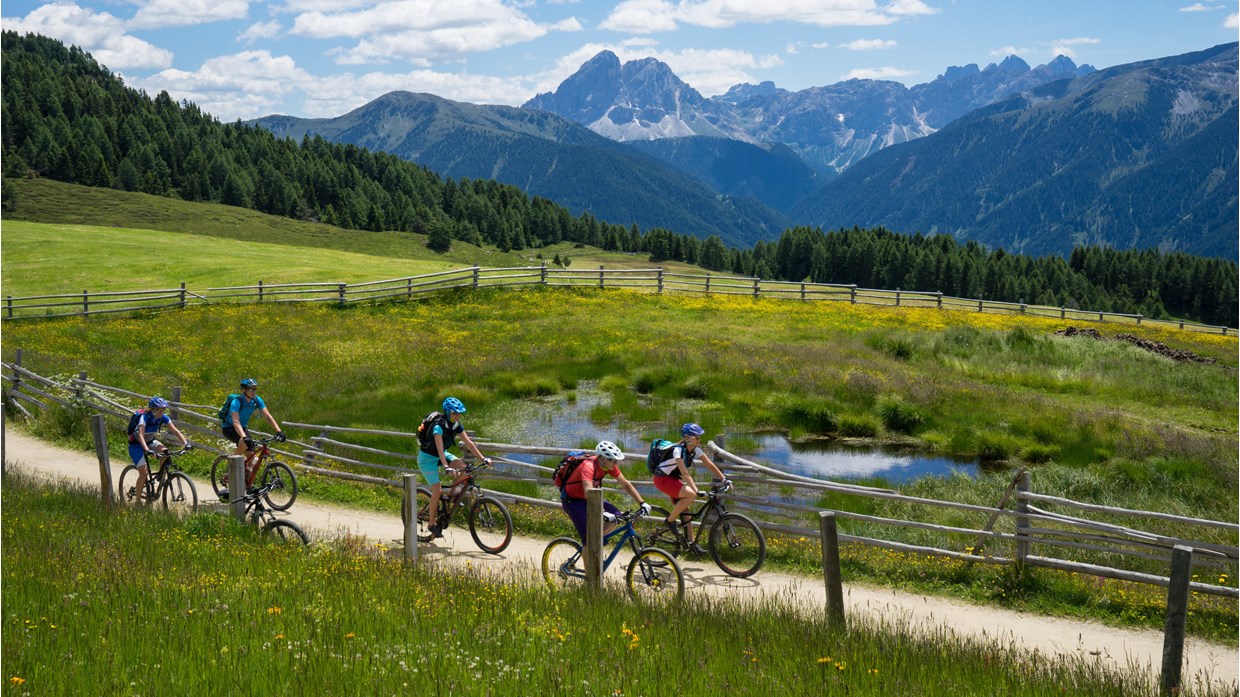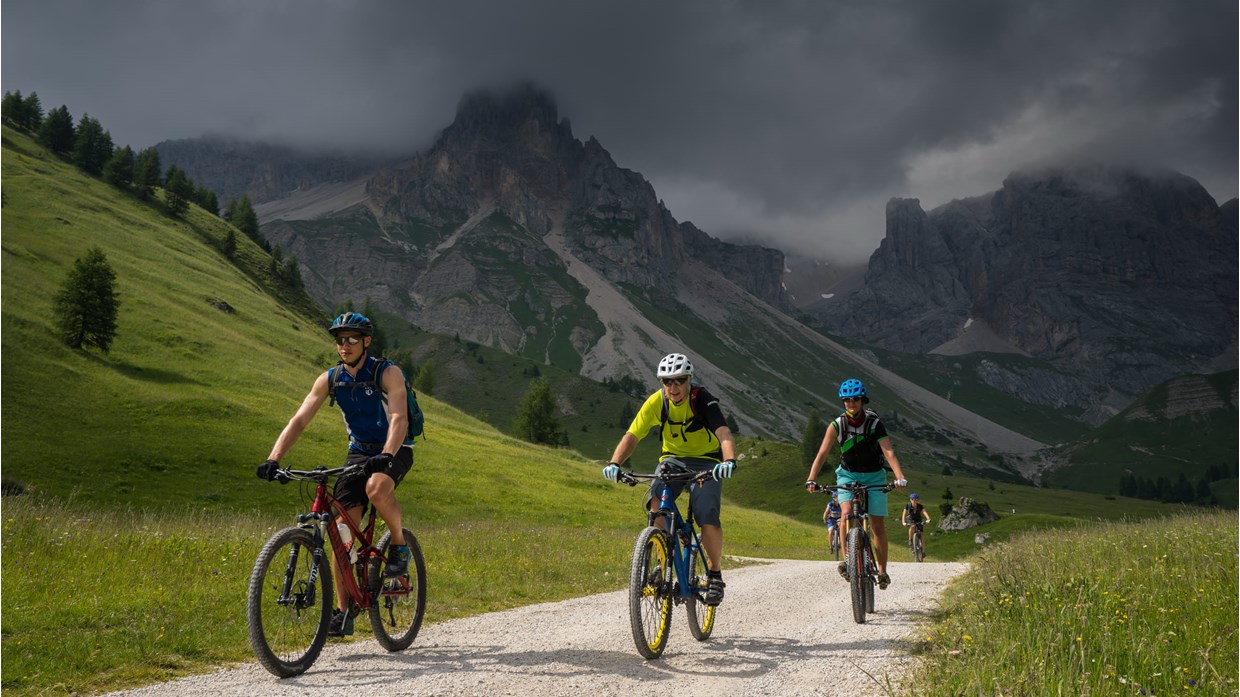 Bikers paradise Alleghe Civetta, Marmolada, Cinque Torri are the perfect Dolomites peaks
Dynamite Trails Historic military roads at Pale San Martino
3 x cable car Save energy to enjoy a lot of trails
Itinerary
First day – Arriving at Mühlbach/ Puster valley
You'll receive all travel documents about 14 days before departure. They contain the exact hotel address and further information. Please arrive by about 6:00 p.m. You'll meet your group and the guide. After discussing the tour, the group will go to dinner together.
Second day – From Mühlbach to Stefansdorf – 40/47 km, 1540 m elevation gain
The climb to the Rodenecker Alm is long. After 1000 meters of elevation gain we reach the viewing turret. Riding on a magnificent panorama track we'll reach the mountain hut for our lunch break. The view is unique. The main Alpine ridge, the Ortler range, and a great view into the Dolomites. We'll end the day in a top wellness hotel.
Third day – From Stefansdorf to Cortina d'Ampezzo – 69 km, 1560 m elevation gain
On the trail of the legendary Dolomiti Superbike we'll roll through the Puster valley and climb up to the Plätzwiese. Passing Monte Christallo on former railway tracks we'll reach the Olympic town Cortina d'Ampezzo.
Fourth day – From Cortina d'Ampezzo to Alleghe – 48 km, 1200 m elevation gain
The cable car takes us up to the great mount Tofana. We are surounded by the most beautiful mountains of the Dolomites. Over the Passo Giau we will reach Alleghe and its trails. At the end oft he day there will be a downhill for more than 2500 meters.
Fifth day – From Alleghe to San Pellegrino pass– 37 km, 1380 m elevation gain
Over unknown tracks we ride to Falcade. Today we'll mainly go uphill. We'll be surrounded by spectacular summits of unknown areas of the Dolomites and in the middle of the Dynamite Trails. San Pellegrino pass will be reached by the end of the day.
Sixth day – From San Pellegrino pass to Fiera di Primiero – 52 km, 1050 m elevation gain
This day nobody will forget so soon. The cable car takes us up to the unique Pale San Martino. Gigantic rocks rise into the sky. It is day full of highlights. Our destination is the sleepy village of Fiera di Primiero. We'll stay in a nice four-star hotel, enjoying the best ice cream.
Seventh day – From Fiera di Primiero to Feltre – 57 km, 1120 m elevation gain
The last day is spent in an unknown mountain region. Up to lunchtime we will go uphill through a wild gorge. The last destination is the Venetian town Feltre. Our farewell dinner will be in a nice city hotel.
Eighth day – Departure
After breakfast, the bikes are loaded onto the bus. Return trip by bus back to Mühlbach/ Puster valley. Upon arrival, everyone travels home individually.
My tip for Transalp Cortina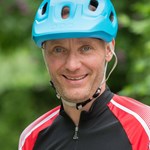 ---
"This tour offered a totally new experience. The Pale will only be one of the many highlights. The combination of beautiful mountain area and driving experience has succeeded especially well on this tour. Although we use the cable care three times, the tour does not lose its challenge."
Travel information
Level 3: Physical fitness
Riding technique
Arrival: Arrival by car or by train to Mühlbach/ Puster valley Italy.
Type of route: Gravel paths, secondary roads, trails, passages of pushing.
Daily distance: 1050-1560 m elevation gain, 37-69 kilometers
Total distance: 7900 m elevation gain, 310 kilometers
Included in the price: Guided tour with 7 overnight stays and half board (breakfast buffet, multi-course dinner menus, farewell dinner) in 3- or 4-star hotels in a double room, often with wellness areas. Luggage transport, return transfer in a comfortable bus.
Minimum number of participants: 8 people
Price: € 1.205
Single Room Supplement: optional € 185

Travel dates
June: 29.
July: 06. / 13. / 20. / 27.
August: 24. / 31.
Your guides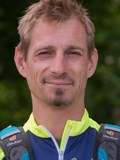 Markus Pisecker Tour guide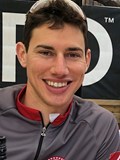 Michele Secli Tour guide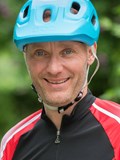 Thomas Koch Tour guide